Posted by
dfordoom on 2006.04.17 at 07:13
In 1972 Hammer Films decided they needed to modernise their Dracula series, to bring the Count into the modern world. The result was
Dracula A.D. 1972
, and of course within ten years it seemed terribly dated in a way that the earlier Hammer Dracula films don't. They were half right, though – the Dracula thing was starting to get very weary. Unfortunately
Dracula A.D. 1972
tries too hard to be hip and swinging and way-out. It also takes too long for anything to happen, and when it does happen it isn't really worth the wait. Peter Cushing does his best. Christopher Lee has too little to do. The crazy way-out young people look too old and too tame. Surprisingly, there's hardly a hint of sex and no nudity – this was the 70s, and that would have been a fairly obvious way to inject some interest into a rather tired idea. Compared to some of the other vampire movies around at about the same time, like
Daughters of Darkness
and
Vampyres
, the lack of sex makes Dracula A.D. 1972 seem a bit like an ageing suburbanite desperately trying to be outrageous and happening and out there but being too uptight to actually do anything.
It does have one or two good moments – I liked the graves heaving early on. Overall though it's pretty stodgy and it doesn't even have much camp appeal. Hammer were making some excellent and interesting movies at this time (like
Dr Jekyll and Sister Hyde
and
The Vampire Lovers
) but
Dracula A.D. 1972
wasn't one of them.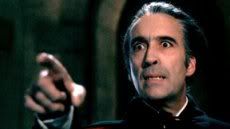 cross-posted to my personal journal and
into_the_fog